There are a ton of Canon printers on Adorama, Amazon,and B&H to choose from but for this article I'm going to focus specifically on printers designed for those who wish to do professional quality photo printing typically referred to as Fine Art printing. This means I'll skip a larger number of PIXMA printers with the "photo printing" moniker. Canon calls their pro photography printers the Professional Photo Inkjet Printers and Professional Large Format Graphics Art Inkjet Printers.
Narrowing the Selection
Canon offers a dozen printers in the aforementioned subset, but for this article I'm going to target the 4 that I believe are targeted to the high end consumer and professional photographers that read this blog. Therefore my recommended subset of Canon pro printers for photographers to consider are as follows:
Canon PRO-1 – The Best Black & White Printer Ever Made? Henry Wilhelm Thinks So!

Canon PIXMA PRO-1 Photo Printer (Adorama, Amazon, Canon Store and B&H)
This desktop printer supports a maximum of 13x19" sheet paper is very comparable to the Epson SureColor P600 and Epson Stylus® Pro 3880 and is a great choice for those doing small scale fine art prints. It does 4x6" sheet prints very well, and Canon camera users will appreciate the fantastic results they get when they do NOTHING to their in-camera JPEG images and just send them to this printer.
One thing to keep in mind about this printer is that it is surprisingly large and heavy, so do your measurements first before ordering. Definitely plan to lift it with a friend too!
Read my review here and/or order yours today at Adorama, Amazon, and B&H.
Also see my PRO-10 review if you are wanting all the goodness of a PRO-1 with wireless and AirPrint support.
imagePROGRAF iPF5100 - The pro solution for the (large) desktop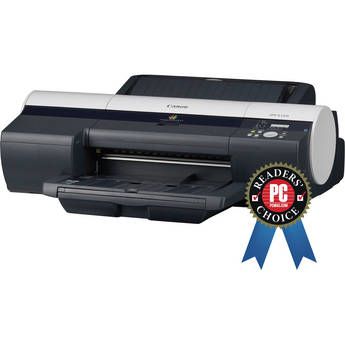 Canon imagePROGRAF iPF5100 Large Format Printer
This is a printer designed for those who might be considering the Epson 3880 or 4900. Size-wise it is larger and heavier than Epson's 4900, so space planning should be done prior to taking delivery. This is not going to fit on your average desktop like a Canon PRO-1 or Epson 3880.
Feature wise the iPF5100 is a 17" wide pro printer featuring roll paper support and technology from the last generation of Canon printers so it offers Lucia inks (instead of Lucia EX) and previous generation control panel and processor technologies. This is a fine solution for those who don't wish to go up to a 24" wide printer and who find the print quality and archival needs of this printer sufficient for the work they are doing. It's designed for heavy duty and larger volume printing than the Pro9500, so it's an ideal choice for the wedding or studio photographer.
Learn more here or buy one today at Amazon, B&H or Adorama.
Ink Cost: $0.58/ml (as of 9/10/2010 @ JVHTech)

Canon iPF6450 – Large Print Heaven!
iPF6400, iPF6450, iPF8400 and iPF9400 at B&H
iPF6400, iPF6450, iPF8400 and iPF9400 at Amazon
Let me cut to the chase and say I'm biased because I have a iPF6450 printer and love it (see my review). I also adored my iPF6300 that I had before it! This is an outstanding 24" wide format printer that is pure joy to use, but it is very big so space should definitely be a consideration before considering a printer this large. However, it is smaller and lighter than Epson's 7900.
This is is a true wide format printer designed for those who want to go large with fine art prints. It's primarily designed to print from rolls. It can print cut sheets, but it's just less enjoyable as you have to eject your roll paper and feed them one at a time. However, given the nature of fine art work, it's common to do that even on printers that support multiple sheet feeders. It's a fantastic choice for "wow" panoramas too (I did a 24"x51" borderless print of Seattle that still has me giggling like a school girl years later).
The 12-Color LUCIA EX ink based printers are the latest in print technology offered by Canon and feature an ink which Henry Wilhelm has declared as the greatest invention for printing since the invention of the ink jet printer (source: Randy Hufford & Canon USA).
You can read more here about some of the benefits of these new printers, but what I can tell you is that every pro who I've talked to who has used one of these new *300 and *400 series printers has said great things about them. Starting with the *300's many have stated (including former Epson Stylus® Professionals – off the record) that Canon is "finally in the pro printer game" (meaning these are as good as anything else out there). Their words were less kind about the prior generations, so beware of great sales right now on outgoing models as there's a reason for it! They may look the same, but print quality-wise they are in a league of their own in the Canon print lineup thanks to improved processors, ink, print head improvements and much more.
iPF6400 versus iPF6450
The ONLY difference between the iPF6400 and iPF6350 is that the later has a hard drive which is handy for a number of reasons – mostly doing re-prints. My recommendation is to spend the extra bucks and get the iPF6450 if you can. Everything is besides the hard drive is identical between these two printers, so if you want to save a few bucks then the iPF6400 is a great choice – just be prepared for iPF6450 envy when you see someone using one and their print job frees up their computer very quickly!
Learn more here or buy one today at B&H or Adorama.
Ink Cost: 61 cents per ml for the 130ml ink tanks versus 47 cents per ml in the new larger 300ml ink tanks (as of the time this article was written)
imagePROGRAF iPF8400

Image Courtesy of Canon USA
Like its competitor, the Epson 9900, this 44" wide printer is a beast designed for a high end print masters and print shops, but not your typical photographer. Sure, it's just as easy to use as the other printers, but the size is closer to a smart fortwo! It's effectively just a larger version of the fantastic iPF6450, so if you need the extra width then this is a great choice.
Learn more here or buy one today at B&H or Adorama.
Ink Cost: 61 cents per ml for the 130ml ink tanks versus 47 cents per ml in the new larger 300ml ink tanks (as of the time this article was written)
Get a FREE Print Sample
Click here to get a using LUCIA EX inks and Canon papers. In the past you've been able to submit your own image and choose to do prints from each of the printers provided, but I haven't tested this offer so you'll have to check it out for yourself.
Attention Northwest Shoppers – JVH Technical – A GREAT Place to buy local
Talk to anyone in the Northwest who is serious about printing, and odds are they've come across the path of John Harrington (no, not this one) and his company JVH Technical, LLC. When you do, the first words out of their mouth are always "John is a great guy", and after meeting him myself I have to agree. John and his son Ryan are a big volume printer sales and supplies company with home grown service – literally – they run the business out of their really cool classic Northwest home!
Now, I know to some this business operated from John's home might be a turn off, but the reality is that when John talks about printing people listen. Industry greats like Canon Explorer of Light Greg Gorman (featured on my Top Photographers list) , John Paul Caponigro, Randy Hufford, and Bambi Cantrell have been in attendance to his past open houses (sponsored by Epson and Canon). His printer sales blow away even local big shots like Glazers and Kenmore Camera, so it may seem small but it's really quite big. Their annual digital print festival is a great treat to attend too!
This is no small mom and pop shop either, as John carries an inventory of over $400,000 in fine art papers and a huge selection of the latest printers from Epson and Canon that are available for immediate delivery. Not only that, they'll deliver and install them for you at no charge! In fact, even if you didn't buy your printer from John, if you have questions or are having problems odds are they'll come out to your house and help make things right again – usually at no charge! In addition, John's always happy to provide free samples of the papers you've wanted to try, but are wondering if they are worth the expense! This is the kind of customer service that simply doesn't exist very much in the world today, but it is also why everyone loves JVH! I can't recommend them enough as a great local resource for printers and supplies, and if you do go visit John or Ryan as a result of this article (or series) please be sure to tell them that I sent you. They may just have something special for you for doing so - wink wink
Here's more in John's own words as to why you should buy from JVH.
PLEASE READ
If you have any interest in printing, you must check out my Printing Series page. It has a wealth of information which you are sure to enjoy. You will probably also find my article entitled Which Printer Should I Buy? Epson or Canon? to be helpful as well.
Disclosure
Canon has provided me with a PRO-1, iPF6300, iPF6450 paper and extra ink so that I may bring you this series on printing. I do not get any monetary compensation from Canon, but I do get a commission if you use my links to Adorama, B&H, or Amazon so thanks for supporting the blog! I have no specific arrangements with JVH for a commission, but please mention this blog as a token of my appreciation to John & Ryan for their assistance in this series.