Fujifilm XF 55-200mm f/3.5-4.8 R LM OIS Lens
Click here to preorder
UPDATED XF LENS ROADMAP
New updated firmware for FUJIFILM X-Pro1 and X-E1 will increase auto focus performance
Valhalla, N.Y., April 17, 2013 – FUJIFILM North America Corporation today announced the
launch of the FUJINON XF55-200mm (83-300mm*1) F3.5-F4.8 R LM OIS, the first XF telephoto zoom lens for the X-Series Interchangeable Lens Digital Camera System that includes the award-winning FUJIFILM X-Pro1 and FUJIFILM X-E1. The all new XF55mm-200mm (83-300mm) F3.5-F4.8 gives photographers a fast aperture across the entire zoom range and outstanding image stabilization for sharp, high resolution images.
"We know that adding this newly designed, advanced telephoto zoom lens to our XF lens line-up will allow photographers who are using our premium X-Pro1 and X-E1 cameras to gain even more shooting flexibility, and also have cutting edge optical technology at their fingertips that enhances the way they capture images," said Go Miyazaki, president and chief operating officer, FUJIFILM North America Corporation.
FUJINON XF55-200mm (83-300mm*1) F3.5-F4.8 R LM OIS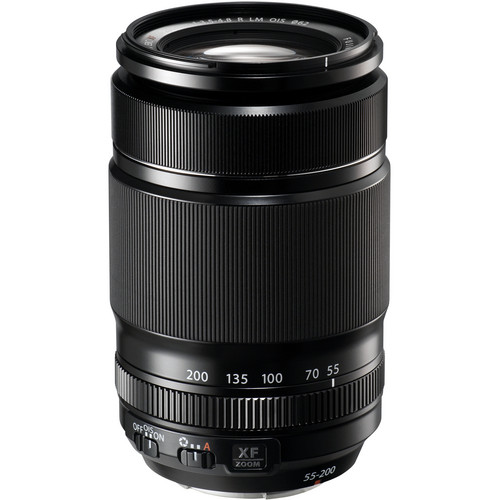 Fujifilm XF 55-200mm f/3.5-4.8 R LM OIS Lens
The all new FUJINON XF55-200mm lens gives users a fast F3.5-4.8 lens that produces
sharp images across its entire zoom range, from edge-to-edge. Its image stabilization function enables the use of shutter speeds up to 4.5 stops slower, preventing camera shake even when shooting hand-held in low-light situations, or when shooting at a stopped down aperture.
The XF55-200mm lens includes two linear motors for high-speed AF of 0.28 seconds*2 to quickly focus on your subject. Together with its high quality metal design, the XF55-200mm lens delivers an easy-to-transport lens with a large maximum aperture for outstanding mobility and performance.
The FUJINON XF55-200mm (83-300mm*1) F3.5-F4.8 R LM OIS lens features:
An advanced optical design to cover the mid-telephoto (83mm) to telephoto (300mm)
Image stabilization for shutter speeds up to 4.5 stops slower
Two linear motors for high-speed AF and quiet operation
Two ED lens elements and one Super ED lens element for increased performance and effective control against chromatic aberrations
FUJINON's proprietary HT-EBC coating on the entire lens surface to effectively prevent reflections, and control flare and ghosting
Minimum focal distance of 1.1m across the entire zoom range to enable telephoto close-ups
A 1/3EV step aperture ring for users to easily adjust the aperture while holding the camera up to their eye
High quality, metal construction focus ring and aperture ring
New Firmware for FUJIFILM X-Pro1 and FUJIFILM X-E1
New firmware will also be released to improve auto focus performance for the FUJIFILM X-Pro1 and FUJIFILM X-E1*3. The new firmware maximizes the benefit of the XF lenses and enables the cameras to search the contrast AF quickly throughout the full range of focal length. The focus speed will be as fast as 0.7 seconds even if it searches from infinity to MOD at the telephoto end.
The new firmware*3 will be available in July 2013 for download at Fujifilm.com.
Updated FUJINON XF Lens Roadmap
Fujifilm is committed to the entire X-Series line of advanced digital cameras and FUJINON XF lens, and is issuing an updated XF lens roadmap following the initial XF lens roadmap released in June 2012*4,5.
With 10 FUJINON XF lenses and the new three X-Mount lenses that Carl Zeiss announced in September 2012, there will soon be 13 high-performance lenses available for the X-Mount system to meet the needs of every photographer and support a wide range of photography from ultra-wide-angle at 10-24mm(15-36mm*1) to super-telephoto of 55-200mm (83-300mm*1.)
End 2013
In late 2013, Fujifilm will deliver the pancake XF27mm (41mm*1) F2.8 high performance single focal length lens. Fujifilm will then launch the super wide zoom XF10mm-24mm (15-36mm*1) F4 lens with optical image stabilization and the single focal length XF23mm (35mm*1) F1.4 lens.
Early 2014
In early 2014, FUJINON will launch its premier prime portrait lens, the XF56mm (84mm*1) F1.2R.
For information about the Carl Zeiss X-mount lenses, please visit http://lenses.zeiss.com.
*1 35mm format equivalent
*2 based on CIPA standards
*3 It will be necessary to update the firmware on all XF lenses except the XF55-200mmF3.5-4.8 R LM OIS. The lens firmware will be available from July 2013.
*4 Images are not of the final product.
*5 Road map is as of April 17, 2013. Specifications are subject to change.
About Fujifilm
FUJIFILM North America Corporation, a marketing subsidiary of FUJIFILM Holdings America Corporation consists of five operating divisions and one subsidiary company. The Imaging Division sells consumer and commercial photographic products and services including film, one-time-use cameras, online photo services and fulfillment, digital printing equipment and service. The Electronic Imaging Division markets consumer digital cameras. The Motion Picture Division provides motion picture archival film, and the Graphic Systems Division supplies products and services to the printing industry. The Optical Devices Division provides binoculars, and optical lenses for closed circuit television, videography, cinematography, broadcast and industrial markets. FUJIFILM Canada Inc. markets a range of Fujifilm products and services. For more information, please visit www.fujifilmusa.com/northamerica, or go to www.twitter.com/fujifilmus to follow Fujifilm on Twitter. To receive news and information direct from Fujifilm via RSS, subscribe at www.fujifilmusa.com/rss.
FUJIFILM Holdings Corporation, Tokyo, Japan, brings continuous innovation and leading-edge products to a broad spectrum of industries, including electronic imaging, digital printing equipment, medical systems, life sciences, graphic arts, flat panel display materials, and office products, based on a vast portfolio of digital, optical, fine chemical and thin film coating technologies. The company was among the top 10 companies around the world granted U.S. patents in 2011, and in the year ended March 31, 2012, had global revenues of $27.8 billion*. Fujifilm is committed to environmental stewardship and good corporate citizenship. For more information, please visit www.fujifilmholdings.com.
* At an exchange rate of 79 yen to the dollar
All product and company names herein may be trademarks of their registered owners.
###
Conclusion
Good times are ahead for Fujifilm users!
Where to order
Click here to see the full selection of X-E1's at B&H web site. My friends at Adorama have it available here, and you can find it here at Amazon.
Click here to buy the X-Pro1 from B&H, or here to buy it from Amazon or here from Adorama .
Other articles you may enjoy
If you enjoyed this article, you may also enjoy these:
Disclosure
If you make a purchase using links found in this article, I may make a commission. It doesn't cost you a penny more, but it does help to support future articles like this.