In the first part of my review entitled, Olympus OM-D E-M5 Mark II with 12-40mm f/2.8 PRO Lens–Crazy Sharp with Vibrant Colors, I couldn't help but share my excitement for what this camera does well. Make no mistake that it takes great pictures in good light and the 12-40mm lens is sure to please even the most picky users.
In the hands this camera feels like it should be held by someone driving a Rolls Royce and wearing a made to measure Gucci suit – it screams quality. When you dig deep into the features you start noticing cool things like shutter speeds beyond the typical 30 seconds max found on other models (it goes to 60 seconds) and 1/8000 sec shutter speed. This combined with an overwhelming array of options make it a true photographers camera.
With that said, there's still lots of modern features like a excellent face detection system, HDR, scene modes and more all controlled via a responsive touch screen. Indeed, on paper and at first glance it seems like a dream camera.
Bookshelf

f/4 @ 12mm for 2 sec at ISO 200
From my testing it was clear that f/4 at 12mm was the sweet spot of this lens. Given the right conditions the image sharpness, even RAW, was often very good.

f/5.6 @ 24mm for 3.2 sec at ISO 200
High Resolution Mode
The high resolution mode seemed to offer marginally better results.
High ISO Performance

f/5.6 @ 24mm for 1.25 sec at ISO 1600
The bookshelf test really brings out the shortcomings of the higher ISO performance of this camera. If I take a 100% crop from the shot above you'll see that the text "Your Seven", the detail in the pages of the book and the leather texture all get obliterated. This is due to poor in-camera noise reduction which can be improved using Noiseware.

100% Crop of the shot above at f/5.6 @ 24mm for 1.25 sec at ISO 1600
Before the conspiracy theorist and fan boys crucify me, here's the same spot taken from the RAW:

100% Crop of the original RAW of the shot taken at f/5.6 @ 24mm for 1.25 sec at ISO 1600
The detail comes back but noise is extreme at this low ISO in the world we live in now. As a result, I've got to say that in most scenarios ISO 800 to 1600 going to be the maximum I could tolerate with this camera. This is very disappointing for a camera that allows for up to 25,600.
Click here for a full gallery of bookshelf shots at various apertures and shutter speeds. Use the captions or the info panel for more details about each shot.
HDR
This camera features easy HDR access from a button on top of the camera body. Using it you can easily take a dark scene like this:

f/5.6 @ 19mm for 1/80 sec at ISO 200
and completely ruin it as shown below. While the image definitely a much wider dynamic range, the in-camera results often felt fake.

f/5.6 @ 19mm for 1/40 sec at ISO 200
Here's a scene where the dynamic range of this sensor just couldn't deal with the dark building:

f/11 @ 17mm for 1/200 sec at ISO 200
The in-camera HDR feature brings back the detail lost in the shadows at the expense of killing the life out of the plants.

f/10 @ 17mm for 1/250 sec at ISO 200
In this last shot you can see a lot of contrast in the image but details lost I shadows of the people under the umbrellas:

f/3.5 @ 31mm for 1/640 sec at ISO 200
Once again the HDR feature does a good job of balancing the scene but the colors feel too flat for my taste in the shot below:

f/3.5 @ 31mm for 1/640 sec at ISO 200
The cool thing about this camera is that if you shoot RAW+JPEG you'll get processed HDR's as shown above, but you'll also get three RAW files that comprised that HDR exposure. This gives you a chance to try again in Photomatix to get better HDR results.
More Real World Samples
The following images come straight from in-camera JPEG's using the camera default noise reduction settings. Most camera settings are the default with the exception of RAW+JPEG, a desired White Balance (only Shade or AWB), and a desired focus point. The i-Enhance Picture Mode was used for most of these photos.
Click here for a full gallery of unedited images.
All images are copyright Ron Martinsen – ALL RIGHTS RESERVED. You may not save, print, edit, modify or otherwise use any images featured in this article or the gallery without expressed written permission.

f/4 @ 19mm for 1/160 sec at ISO 200
This was pretty much my reaction when I got my hands on the OMD-M5 Mark II, but…

f/4 @ 24mm for 1/200 sec at ISO 200
My wife was done with it on day one when every shot she took of my son catching his first fish came out blurry. Face detection failed big time in these conditions for reasons I don't quite understand.

f/11 @ 29mm for 1/13 sec at ISO 1600
Image stabilization is quite good so it came in handy on this hike without any support

f/2.8 @ 24mm for 1/80 sec at ISO 200
Manual focusing using focus peeking can yield exception results on static subjects

f/2.8 @ 32mm for 1/60 sec at ISO 1250
If your subject is grainy with lots of texture then the high noise found in this camera won't be as distracting as it is with people and objects.

f/3.5 @ 40mm for 1/2500 sec at ISO 200
Like many cameras, this one struggles a bit with reds

f/4 @ 38mm for 1/1250 sec at ISO 200
While most of the shots in the burst came out blurry, it usually would get at least one or two in focus when face detection was turned off.

f/5.6 @ 40mm for 1/100 sec at ISO 800
I was amazed that the colors in this shot on the screen were an identical match to what I saw in real life. If color accuracy is what you desire, then this might be the right camera for you.

f/5 @ 40mm for 1/1250 sec at ISO 200
This camera is most impressive when photographing scenes with lots of textures

f/4 @ 38mm for 1/1600 sec at ISO 200 –1/3 EV
I don't like to take pictures of other peoples art, but I took this one when I was checking out something with this camera. I was so impressed with how it made this wall painting look so much better than it was in real life that I had to keep looking at the sign to remind me that this was a building!

f/4.5 @ 40mm for 1/2000 sec at ISO 200
I wasn't able to have as much luck photographing bees with this camera as I did with its predecessor. Camera start time definitely contributed to me missing plenty of opportunities.

f/4 @ 17mm for 1/160 sec at ISO 200
If you just shoot flowers and landscapes, then this camera will reward you for your patience

f/2.8 @ 26mm for 1/125 sec at ISO 200
If your goal is to photograph kids then look elsewhere as the wide variety of shooting and stabilization settings still never resulted in the kind of performance you'd see on a Nikon D7200

f/2.8 @ 12mm for 1/1600 sec at ISO 200
Overall the metering felt improved from the previous version, but it still had plenty of scenarios like this where other brands do a much better job of detecting and compensating for backlit scenarios

f/16 @ 40mm for 1/100 sec at ISO 800
f/16 was about the max I felt was usable with this lens as things get pretty soft at f/22

f/2.8 @ 32mm for 1/800 sec at ISO 200
This camera does a good job of protecting the highlights from being overblown

f/5.6 @ 17mm for 1/100 sec at ISO 200
This pretty much sums up my feelings after this day with this camera. It became clear that to get the most of out this camera you've really got to sit down and read the manual. If that's something you can't do (cover to cover) then this definitely isn't the right camera for you.
Click here for a full gallery of unedited images. You'll see a few more blurry shots, but there's a significant number that I didn't upload. This isn't to say that you can't still get some sharp shots like the slide shot earlier in this article.
Conclusion
The Olympus OM-D E-M5 Mark II is a great camera in many ways, and definitely one built for the photographer who loves to have lots of options. In fact, I'd probably need another few months to review all of the options this camera offers as there are two many to fully master in the short three weeks that I've had this camera. With that said, as a camera body I loved everything except for the rear LCD behavior.
My four main gripes with the Mark I was the gurgling sound it made, poor default exposure metering, autofocus performance and high ISO noise performance. The Mark II definitely resolved my concerns about the first two, and the autofocus is significantly better but still not good for parents / event photographers. However, my biggest disappointment is that the noise level after ISO 800 is downright below average compared with other cameras over $500. Given this reality and my frustration with the poor behavior of the rear LCD black out behavior, I can't recommend it over comparable models by Sony and Fujifilm.
Does this mean you shouldn't buy this camera? No, I think if you are loyal Olympus shooter or outdoors photographer shooting in bright light then you'll be delighted. If you aren't and you use this without having in-depth experience with other models then you'll still probably be extremely happy with it. However, those looking for the best balance of camera body performance and image quality are going to be happier with the latest models from Fujifilm and those with deep wallets will find nirvana in latest additions to Sony's a7 series.
Where to order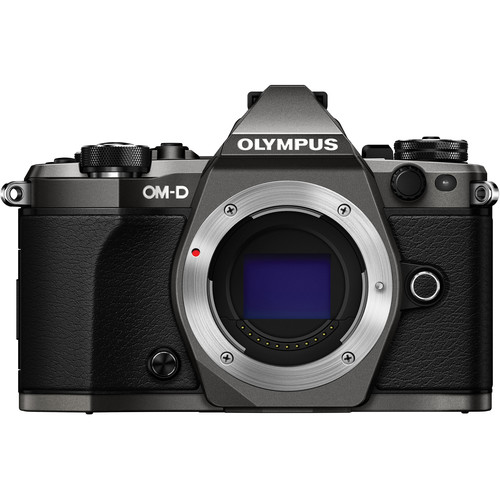 Olympus OM-D E-M5 Mark II Limited Edition (Titanium)
For Sale in mid-July
Click here to learn more or order at B&H. The cool new Olympus OM-D E-M5 Mark II Limited Edition (Titanium) is also going to be available soon too. It looks pretty cool, but personally I'm still a big fan of the black model!
Other articles you may enjoy
If you enjoyed this article, you may also enjoy these:
Disclosure
If you make a purchase using links found in this article, I may make a commission. It doesn't cost you a penny more, but it does help to support future articles like this.