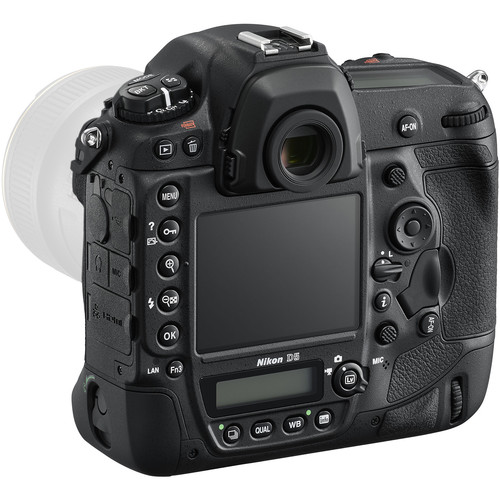 Nikon D5 DSLR Camera (Body Only, Dual XQD Slots)
After a month and 5000 shots with the Nikon D5, my opinions have changed quite a bit since my first look article. Yes, I still love it, but I've had enough time to experience both its greatness, as well as its flaws.
If you haven't already, be sure to read part 1 of this article where I dive a lot into features and even offer some videos that show this camera in action. What follows here are my final observations and conclusion.
Bookshelf Tests
For my bookshelf tests, I reset the camera back to factory defaults and then chose RAW+JPEG Fine* and took 19 separate shots using mirror lockup.starting here. Click the shots below to view a full-size original in-camera JPEG that has not been edited in any way.

f/2.8 @ 100mm for 2 sec at ISO 100
As expected ISO 100 was great as were the images taken at f/2.8 all the way to f/10 where I stopped due to the 30 second exposure limit for aperture priority. Sharpness was very good and no visible signs of diffraction were present.

f/5.6 @ 100mm for 1/100 sec at ISO 102,400
As the ISO's started to rise, things looked pretty good up to 25,600 where I started to notice a drop off in quality that gradually gets worse. By 102,400, shown above, I find that anything larger than 4k screen resolution is too big for using these files.

f/5.6 @ 100mm for 1/200 sec at ISO 204,800 (H1)
In an extreme pinch, some might find 204,800 (H1) usable, which if you keep the file small as shown above it can be useful.

f/5.6 @ 100mm for 1/400 sec at ISO 409,600 (H2)
By the time you get to 409,600 (H2) as shown above, things start getting pretty smeared so anything larger than a thumbnail will likely disappoint.

f/5.6 @ 100mm for 1/3200 sec at ISO 3,276,800 (H5)
Everything after H2 is horrible with the worst being H5. Sure, it's cool to say that you have a camera that can do three million ISO, but this is the worst image I've ever seen out of a camera in my lifetime. This was a pure marketing play as I can't see anyone using an image like this for anything – yuck!
Of course, I had to try shooting the sky handheld at night when I was pretty dark and cloudy. I got an interesting shot:

f/5.6 @ 200mm for 1/125 sec at ISO 144,815
but nothing I'd use beyond a talking point like this. This is however, the first time I've handheld a shot in the dark of night and got something that is better than what my eyes could see. Yes, my eyes had a better overall balanced exposure and no noise, but the backlit effect on the clouds was cool, and not visible to the naked eye without a seriously long exposure.
Long-Term AF Findings

f/4 @ 200mm for 1/2000 sec at ISO 180
Yes, this AF system is excellent, but like all systems I've used, I still get the best result when I use a single AF point in continuous mode and do a good job manually tracking my subject. Full auto (Auto Area AF), is still flawed and various group / multi point methods all resulted in a fair number of misses in real world use – even in sunny conditions that warranted 1/000 sec or greater shutter speeds.
Here's an example when using the dynamic area AF 25 mode where the system just failed (it focuses on the grass behind the runner):

f/2.8 @ 200mm for 1/1000 sec at ISO 100
However, the next two frames got more in focus and the remainder afterwards were focused. This tells me that the system is good at self correcting and just a little more R&D is required to get more perfect shots from the time you first press the shutter button.
While I was out shooting my model noticed an eagle, so without changing any settings I just pointed my camera up and sprayed and prayed to get a shot. Out of 16 frames, I got one shot which is somewhat understandable – especially given the dandelions flying in the air:

f/2.8 @ 200mm for 1/1000 sec at ISO 100
I hoped and expected for more in focus shots since I did an ok job tracking the subject, but I've done better using other cameras – including the D4s.
There were plenty of in focus shots taken over the month that I had this camera where this camera performed flawlessly, but it really was about tried and true methods that work with most sports cameras to get the best results. You an see some in the first look and part one of this article, or here in the gallery.
Yes, it's an improvement over the phenomenal D4s, and it's definitely better than any Canon I've shot with, but it impressed me so much up front I had a false sense of hope that this would be the camera that nailed every shot that was outside the minimum focus distance.
4k Videos
I hate doing video, but the 4k video on this camera combined with a touch screen intrigued me. I was hoping it would act like a cell phone or a lower end DSLR that allows tap to focus, but as you can see from this video that tap to focus (done on a monopod here) is a total disaster:
Instead, pre-focusing the scene as I'd do with most DSLR's without touch screens is going to give you the best results (unless you have additional video hardware to assist):
The 4k quality was good and recorded flawlessly with compact flash cards as slow as 90 mbps. My only gripe was that it would stop after three minutes instead of just spilling over to a new file.
Conclusion

f/7.1 @ 125mm for 1/400 sec at ISO 36,000
Yes, this a great camera. Is it the best Nikon sports camera ever made, it's hard to say but if history repeats itself I think the inevitable D5s will be the one to earn that title. For now, I'm impressed but also reminded at how good the D4s was, so I'd be hard pressed to just stick with it if I were a Nikon shooter.
The focus was excellent, but not foolproof – I learned how to cause it fail – a lot. The ISO performance was good, but I've seen better from Nikon. The metering mode, was typical Nikon – which is to say maddening for Canon shooters who can just use evaluate all the time and not think about metering. These realities, along with the interesting but flawed AF Fine Tune feature (learn more) tell me there will be some much needed firmware updates, and that D5s will be the one that meets the expectations that this camera sets.
If you are a commercial Nikon shooter doing sports or events, then I'd say yes this is worth the upgrade because this camera will easily pay for itself. However, if you area prosumer who shoots for fun, I'd consider getting a great deal on a D4s or waiting for the D5s before parting with your hard earned money .
As for me, I'm going to hold out and test the Nikon D500 and Canon 1DX Mark II to see if either motivates me to part with my 1DX or if I'm going to sit this round out.
Where to order
Click here to learn more or order on the B&H web site. I opted for the dual CF version, but an XQD version is available at no extra charge.
Other articles you may enjoy
If you enjoyed this article, you may also enjoy these:
Disclosure
If you make a purchase using links found in this article, I may make a commission. It doesn't cost you a penny more, but it does help to support future articles like this.